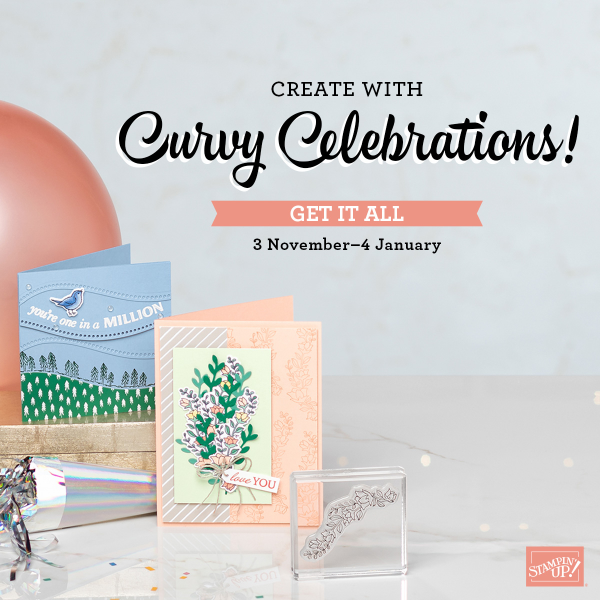 Unbox your creativity with Curvy Celebrations! These curvy stamps and dies are the perfect twist to take your projects beyond the ordinary. November 3rd through January 4th you can get your hands on and early-release of the Quite Curvy Variety Bundle, part of which will be available January 5th. Here's the scoop - You don't want to wait until the new Mini catalog arrives! Now through January 4th only, you can get the Quite Curvy Variety Bundle that includes two additional, exclusive, coordinating Christmas themed goodies and save 10% on it all! While you can get the Quite Curvy stamp and die bundle after this promotion, you won't be able to get the Curvy Christmas stamp set or Classic Christmas 6" x 6" Designer Series Paper. They are only available as part of this special until January 4th, or while supplies last, so don't delay get yours ordered today and add a curvy touch to your Christmas projects! (Hint: In my experience, exclusive deals like these often sell out before the end of the promotion, so don't wait!)
Happy Stamping!
Bonnie Waterman
QUITE CURVY VARIETY BUNDLE
QUITE CURVY BUNDLE
VIEW OUR SUITES ONLINE DOWNLOAD OUR LATEST CATALOG

The NEW 2020-2021 August - December Mini Catalog Is HERE!!!
Hi, my name is Bonnie Waterman. I was introduced to Stampin' Up in 2002. I really enjoyed scrapbooking. When I discovered that Stampin' Up! had a line of exclusive scrapbooking products, I was instantly hooked. I had to have it all! Then, as I learned to use what I had, I discoverd the joy of card making. I was so excited! I love making beautiful cards. Once I realized how to put both scrapbooking and stamping together, I had the best of both worlds! I love being a demonstrator and part of a company that inspires my creativity with exclusive stamps and accessories, allows me to plan my business around my schedule, and offers an exciting and expanding line of exclusive stamping products. If you want more information about Stampin' Up!'s exciting products or unique business opportunities, please contact me.
Facebook: https://www.facebook.com/StampWithBonnie/
bwaterma@tds.net